Adjustment of Magnetic Compass, repairs and replacement for magnetic compass can be done by OZEL MARINE ELECT.
Vessel owners and masters each have responsibilities for ensuring that magnetic compasses are maintained in good working order, adjusted and a table or curve of residual deviations is available.
Compass Adjustment is the method of analyzing and compensating for deviating forces of a vessel's magnetic compass. A magnetic compass should always align steadily to the earth's magnetic field, pointing to magnetic north.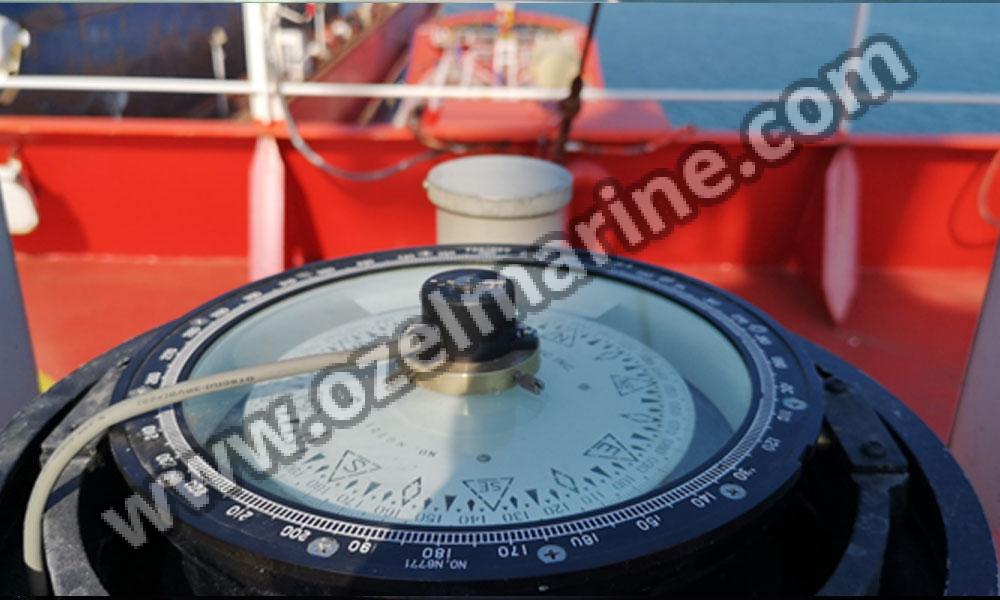 Magnetic Compasses should be adjusted when;
they are installed fort he first time
they have become unreliable
repairs or structural alterations have been made to the ship that could affect its permanent and/or induces magnetism
electrical or magnetic equipment close to the compass is added, removed or altered
the recorded deviations are excessive or when the compass shows physical detects
at any time deemed necessary by the master of the safety or navigation.
All magnetic compasses shall be swung and adjusted no less often than
every two years
after dry docking
after significant structural work
Adjustments will be carried out by a qualified compass adjuster.
Magnetic Compass Repair / Overhaul
Does your ship's magnetic compass indicate correctly?
Is your compass yellowed, cloudly or missing fluid?
Your compass has a bubble?
Do you have a deviation card?
Contact us for compass adjustment or repairs.
The Signal flags 'OSCAR' over 'QUEBEC' must be to shake hands during this operation.